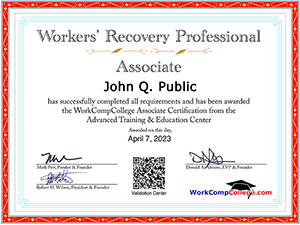 Thank you for your interest in our Associate level certification program, designed to provide you with basic knowledge in workers' recovery management. The curriculum for the WRPA is largely comprised of base courses from the 9 schools of discipline that make up our flagship Workers' Recovery Professional program. Entry-level employees, or organizations looking to enhance existing training programs, will find the offerings of the WRPA useful. Additionally, almost all credits from the WRPA will transfer to the WRP program if a student chooses to enroll in that at a later date.
Important: Enrollment is a 3-Step process. Once payment is confirmed, you will be directed to a page that will allow you to quickly set up your school account. The third step, a confirmation link sent via email, will enroll you in the WRPA program and its related courses.
Now available, Convenient Payment Plan. You may enroll with your choice of a single payment of $495, or 3 easy installments of $175 per month.
Step 1: Complete Payment