WorkCompCollege.com is a true community-driven effort, ultimately supported by dozens of workers' compensation professionals whose primary desire is to "leave the industry better than they found it." This effort is being led by WorkCompCollege.com founders, who are:
---
President
Robert Wilson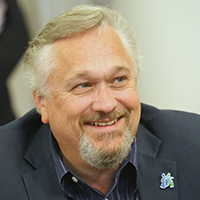 Bob Wilson is a founding partner and former President & CEO of WorkersCompensation.com. He is an experienced presenter for the workers' compensation industry and is the author of "From Bob's Cluttered Desk", a blog repeatedly named as a top workers' compensation blog by LexisNexis. Additionally, he has been named one of the "50 Most Influential People in Workers' Comp" by the SEAK National Workers' Compensation and Occupational Medicine Conference and is the recipient of a Comp Laude Industry Leader Award. Known for an extraordinary sense of humor, his presentations reflect both entertaining and practical advice for both people managing claims as well as the people "picking up the tab". Bob serves on the Board of Directors for Kids' Chance of America, Inc. and is a founding board member and past-president of Kids Chance of Florida, Inc.
You may visit Bob's personal website and blog at www.bobscluttereddesk.com.
---
Provost
Mark Pew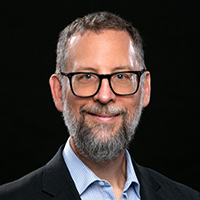 Mark Pew is an award-winning international speaker, author and jurisdictional advisor in Workers' Compensation. The RxProfessor has focused on the intersection of chronic pain and appropriate treatment since 2003. Mark created "Qualified Medical Intervention" that won a 2012 Business Insurance Innovation Award, received WorkCompCentral's Magna Comp Laude award in 2016, IAIABC's Samuel Gompers Award in 2017, named "Top 100 Healthcare Leader" by IFAH in 2021 and received the Health 2.0 Outstanding Leadership award in 2022. He is co-founder of The Transitions and is on the Advisory Boards of Harvard MedTech, Simple Therapy, and Goldfinch Health.
You may visit Mark's personal website and blog at www.therxprofessor.com.
---
Executive Vice President, Business Development
Donald A. Abrams, PA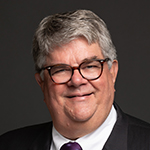 Donald A. Abrams, PA is a 1977 graduate of the Albany Medical College Physician Assistant program, specializing in and actively practicing orthopedic surgery for more than 15 years. Overseeing several exceptionally successful start-ups, Mr. Abrams has established himself as a leader in cost containment strategies for the workers compensation professional. Now celebrating his tenth year with Clinical Compensation Consultants, Mr. Abrams has participated and spoken at hundreds of local, regional and national educational conferences on a multipole of topics germane to the workers comp professional. Additionally, Mr. Abrams has presented a number of webinar-based lectures endorsed for continuing education credits by the Texas Department of Insurance. Described as an excellent and passionate speaker, Mr. Abrams continues to strive to deliver each of the workers' compensation professional he is honored to provide services to the level of expertise that best serves all participants in the workers' compensation system. 
You may visit Don's corporate website at comp-consultants.com.
---
Visit our Board of Trustee's page here.