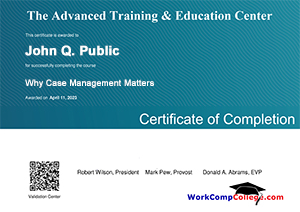 Now Available! Our first State-Specific Training Modules include Texas, Illinois, Indiana, Delaware & Montana.
State-Specific Training Module Program – The core of understanding workers' compensation is knowing specific claim, legal, and ethics requirements of the jurisdiction(s) in which you work. The State-Specific Module system provides online courses and other useful content for each state that covers these essential topics. They are being produced with jurisdictional experts serving as strategic partners to WorkCompCollege.com. The classes will be updated annually or as needed based on legislative and regulatory activity. Each state module issues a Certificate of Completion for verification purposes. We are currently scheduled to have 32 states completed by end of 2023.
States are available for individual purchase. Once a significant number of state modules are online, we will offer an "All State" package. Watch this space for more information.
Pricing:
Delaware – $95
Illinois – $95
Indiana – $95
Montana – $195
Texas – $195
The states listed to the left are available now. More states, including California and Florida, are coming soon!