A Foundational Course in Whole Person Recovery Management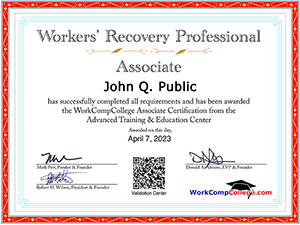 A condensed program offered by WorkCompCollege, the curriculum for our Associate Certification (WRPA) is largely comprised of base courses from the 9 schools of discipline that make up the flagship WRP program. Entry level employees, workers' comp veterans looking to broaden their understanding, or organizations wanting to enhance existing training programs, will find the offerings of the WRPA useful. Additionally, almost all credits from the WRPA will transfer to the WRP program if a student chooses to enroll in that at a later date. It is the perfect program for people and companies in need of quality training, yet concerned over time and price requirements, as well as those who simply need the basics in best practices for workers' compensation. As with the WRP curriculum, the WRPA program addresses the "what" and "why" of the Work Comp ecosystem, mixing hard and soft skills into a "Work Comp 360" claims advocacy approach to all stakeholders.
The WRPA has been intentionally designed to support further education for those individuals looking to advance their skills and career. As previously stated, almost all credits from the WRPA are immediately transferrable to our flagship certification, the Workers' Recovery Professional program. For those who want to "wade in gradually" to the Whole Person Recovery Management Philosophy, it is an ideal beginning.
---
What classes are offered under the WRPA program?
(General Studies) The Grand Bargain as a Foundational Element of Workers' Compensation
(Claims) Workers' Compensation Claim Handling 101
(Claims) Claim Adjudication Foundations
(Claims) Coverage and Compensability Foundations*
(Humanities) Emotional Intelligence
(Humanities) Creating the Customer Experience & Why a WRP Mindset is Important & Different
(Legal) Legal 101: Legal tests, claims, and defenses
(Legal) The roles, relationships, and duties of the attorney
(Medical Mgmt) Medical Management 101: Evaluation, diagnosis, and treatment of work-related injuries
(Medical Mgmt) Medical Management 102: A Deeper Dive into Causation, Red Flags and Work Disability Prevention
(Medical Mgmt) The Foundational Importance of a Biopsychosocial Approach
(Reg/Leg) History of Workers' Compensation: The First Great Social Justice Movement
(Reg/Leg) Administrative Rule Making Process and Shaping Workers' Compensation Regulations
(RTW) The Importance of Work Disability Prevention and the Worker-Centric Model
(RTW) The Psychosocial Landscape of Return to Work
(Risk Mgmt) Introduction to Risk Management
(Risk Mgmt) Risk Transfer Process
(Stakeholders) The Injured Worker, the Primary Stakeholder
(Stakeholders) The Employer: The Third Stakeholder in Workers' Compensation
*Coverage and Compensability Foundations is a course specific to the WRPA curriculum, and credit for that course does not transfer to the WRP Certification program.