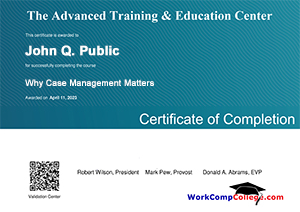 The Advanced Training & Education Center (ATEC-Prime) is the nucleus for ongoing education and broad information services for the workers' compensation ecosystem. Prime courses, webinars and podcasts, exclusive articles, Dean / Faculty forum, live programs, group and research projects, and more, are offered*. Subscribers are considered students which provides access to bi-monthly live Student Townhall and other benefits. Part of the purpose of ATEC-Prime is to provide an "Alumni Association" for WRP and ATEC-A graduates, which will provide community support and idea sharing among this elite group of professionals.
ATEC-Prime members have access to a continually increasing library of specialty education courses, providing all continuing education credits needed for the Workers' Recovery Professional Certification every 3 years. This information hub is available by itself or in conjunction with other WorkCompCollege.com products.
Here are samples of offerings available in the ATEC-Prime system at launch:
Courses
(Claims) Social Media … If you think it's easy) then you don't understand — Curt DeVries
(Humanities) An Introspective Approach to Burnout — Ashley Wynn-Grimes
(Humanities) Organizational Cultural Development — Melissa Steger
(Medical Mgmt) Common misperceptions: Is this your compensable pathology — Donald Abrams
(Medical Mgmt) Mental and Social Health in a Work Claim — Dr. David Ring
(Medical Mgmt) Identifying and Addressing Non-Physical Barriers with Work Conditioning and FCE — Robert Townsend
(Medical Mgmt) Job Analysis vs. Job Description: Pros, Cons, and Value Add in Work Injury Claims — Robert Townsend
(Medical Mgmt) Chronic Pain Management: Best Practices & Return to Work – Dr. Geralyn Datz (View 2-Minute Lesson from this course)
(Medical Mgmt) Total Worker Health® as a Conceptual Approach Towards Worker Well-being — Dr. Robert Emery
(Humanities) Coordination of Benefits: How to support an employee when a claim is not compensable — Hasina Anderson
(Risk Mgmt) An Overview of Directors and Officers Liability Insurance — Eric Boyum
(Risk Mgmt) Improving Communications Through the Compelling Display of Data — Dr. Robert Emery
(Return to Work) Ethics from a Return to Work Perspective — Dr. Ilana Lehmann
(Stakeholders) Why Case Management Matters — Mollie Kallen
(Legal) Appeals and the Applicability of Precedence — Ya'Sheaka Williams
Library Articles
Evidenced-Based Medicine: Friend or Foe?
COVID and impairment ratings
Social capital: Build back better relationships at work
Physical Demand Levels: Do they bring clarity or confusion?
Data and Discernment in Workers' Compensation Claims
Voice of the Provider Podcasts
The Point Webinar Archives
*Group and Research project offerings are in the development phase, and are not yet available