<<< Return to Faculty Home Page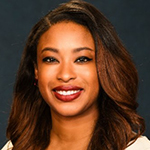 Hasina Anderson (MS, ARM, REBC, CCC-SLP)
Vice President, Employee Benefits Consultant, USI Insurance
instructor
School of Humanities
Class(es) Taught:
Coordination of Benefits: How to support an employee when a claim is not compensable
Hasina is passionate about helping employers understand and effectively manage their employee benefits. She becomes an extension of her client's team to better understand culture, goals and objectives to design and implement successful employee benefits insurance programs. She thrives on discovering the unique needs of her clients and their employees, figuring out exactly what precise mix of offerings will help them recruit and retain the talent they need to succeed. With a background in human resource, workers compensation managed care and allied healthcare, Hasina is in a unique position to offer insight on the full lifecycle of an employee from enrolling in benefits to utilizing the insurance in a healthcare facility. Clients appreciate her attention to detail, holistic approach, and passion to educate – empowering them to make thoughtful decisions for their organizations. In addition, Hasina focuses on corporate wellness, employee engagement, healthcare and innovative cost-savings through data analytics. She brings an energetic passion for education on overall well-being including mental health, physical, emotional, social inclusion, and financial wellness. She uses that same energy to give back to HR communities. Hasina is a proud Track & Field Baylor University alumnus (Sic 'Em Bears). She earned her master's degree from California State University, East Bay; Associate in Risk Management (ARM) designation; and is a Registered Employee Benefits Consultant (REBC) from the National Association of Health Underwriters.

Are you interested in having this faculty member speak at your conference or event? Submit this brief form below and we will be happy to pass on the referral.