<<< Return to Faculty Home Page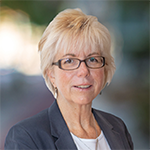 Nancy Blastic
Partner, Walker, Revels, Greninger PLLC
Instructor
State Training Modules
Class(es) Taught:
Florida - Action Timetable for Adjusters
Nancy Blastic earned her Bachelor of Arts from Florida State University and Juris Doctorate  from the Walter F. George School of Law, Mercer University. Nancy is admitted to the Florida Bar and Georgia Bar. She is admitted to practice before the United States District Court, Middle District of Florida, the Eleventh Circuit Court of Appeal and the United States Supreme Court. She has extensive appellate experience. Nancy concentrates her area of practice in workers' compensation defense and represents numerous school districts and other employers throughout the state of Florida.   

Are you interested in having this faculty member speak at your conference or event? Submit this brief form below and we will be happy to pass on the referral.