<<< Return to Faculty Home Page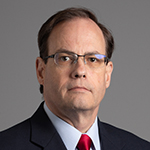 David W. Langham is Florida Deputy Chief Judge of Compensation Claims, a position he has held since 2006. His legal experience includes workers compensation, employment litigation, and medical malpractice. He has delivered in excess of 1,500 professional lectures, published over 40 articles in professional publications and has published over 1,500 blog posts regarding the law, technology, and professionalism. He has been an adjunct instructor at University of North Florida, Pensacola State College, University of West Florida (a combination in excess of 55 semester classes taught), and has guest lectured at Barry University School of Law and Florida State University School of Law. David is a student, a teacher, a critic, a coach, and a leader. He lives in Pensacola, Florida with his wife Pamela Langham, Esq.

Are you interested in having this faculty member speak at your conference or event? Submit this brief form below and we will be happy to pass on the referral.