<<< Return to Faculty Home Page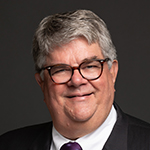 Donald A. Abrams
Executive Vice President Business Development, WorkCompCollege.com
Instructor, Founder
School of Medical Management
Class(es) Taught:
Workers' Recovery Professional Certification Orientation and Welcome
Orthopedic Roadshow: Part 1 - Extremities
Orthopedic Roadshow: Part 2 - Spine
Common Misperceptions - Is this your compensable pathology? (Elective)

Donald A. Abrams, PA is a 1977 graduate of the Albany Medical College Physician Assistant program, specializing in and actively practicing orthopedic surgery for more than 15 years. Overseeing several exceptionally successful start-ups, Mr. Abrams has established himself as a leader in cost containment strategies for the workers compensation professional. Now celebrating his tenth year with Clinical Compensation Consultants, Mr. Abrams has participated and spoken at hundreds of local, regional and national educational conferences on a multipole of topics germane to the workers comp professional. Additionally, Mr. Abrams has presented a number of webinar-based lectures endorsed for continuing education credits by the Texas Department of insurance. Described as an excellent and passionate speaker, Mr. Abrams continues to strive to deliver each of the workers' compensation professional he is honored to provide services to the level of expertise that best serves all participants in the workers' compensation system.