<<< Return to Faculty Home Page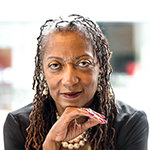 Licia Thompson, CPC, ELI-MP
Leadership Reinvention Strategist & founder of Licia Thompson Coaching & Consulting, LLC
Instructor
School of Humanities
Class(es) Taught:
Defining Transformational Leadership: A Values-Based Next Level Approach
Licia Thompson, CPC, ELI-MP founder of Licia Thompson Coaching & Consulting, LLC is a certified Leadership Reinvention Strategist and published author of "When Your Soul Whispers: Strategies for leaders to redefine values and go forward after life's transitions." She's the former Macy's corporate Workers' Compensation Director of Return to Work, Managed Care and vendor relations. She now equips Workers' Comp and other leaders who've experienced divorce or caregiving to become intentional by redefining your thoughts, vision, values and actions using her customized 3C Leadership Reinvention Formula so you can THRIVE. After reflecting on her 22 years as a leader in Workers' Compensation she redefined her core values which lead to a mission to motivate other leaders to live, professionally and personally beyond the status quo by maximizing their strengths in ways to align core values with goals. She has a monthly column in BLOOM where she provides thought and strategies to encourage leaders to seek opportunities to grow forward. Licia earned a BS in Journalism from Ohio University and three certifications: Certified Professional Coach, Energy Leadership Index Master Practitioner and COR.E Dynamics Leadership from the Institute for Professional Excellence in Coaching (iPEC). Email:  Licia@LiciaThompson.com   Website:  www.LiciaThompson.com. Instagram: @Licia_Thompson Facebook: Licia Thompson, The Reinvention Strategist LinkedIn:  Licia Thompson, CPC, ELI-MP

Are you interested in having this faculty member speak at your conference or event? Submit this brief form below and we will be happy to pass on the referral.