<<< Return to Faculty Home Page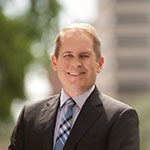 I'm President of Franklin & Prokopik, a Mid-Atlantic law firm with approximately 70 attorneys, based out of Baltimore. I head the firm's Labor & Employment Practice, and my personal practice consists largely of the defense of workers' compensation matters. In terms of honors, I am a past Chair of the National Workers' Compensation Defense Network, past Chair of the Labor & Employment Practice Group for USLAW Network (another national organization of law firms), Fellow of the College of Workers' Compensation Lawyers, incoming Chair-Elect of the ABA TIPS WC Subcommittee, member of the Larson's Editorial Advisory Board and recently named "Lawyer of the Year" in Workers' Compensation for Maryland by Best Lawyers. I have a diverse practice where I represent employers and insurers in all Maryland state and federal courts. I have testified before the Maryland legislature on WC and employment matters, serve as general counsel to some of Maryland's largest trade associations and am active as a speaker throughout the country.

Are you interested in having this faculty member speak at your conference or event? Submit this brief form below and we will be happy to pass on the referral.