September 18, 2023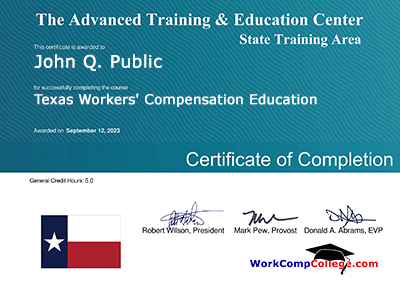 Lakewood Ranch, FL – WorkCompCollege.com, a division of Workers' Compensation Educational Services, LLC, announced the launch of an innovative series of training modules covering the unique aspects of each workers' compensation jurisdiction in the United States. The differences across state lines complicate the training of claims, operational, clinical and sales professionals. Equipping individuals to effectively manage that complexity often falls on supervisory staff, defense counsel, state-sponsored CE courses, or on-the-job-training, which means it can be inconsistently provided throughout an organization.
These common issues led WorkCompCollege.com to develop a State-Specific Training Program that includes experts in each jurisdiction teaching claims, legal and ethics fundamentals in the same virtual campus that offers the Workers' Recovery Professional (WRP) and Associate (WRPA) certification curriculum. A single student login may provide access to one, some, or all of the states' educational modules in a consistent pre-recorded format. A maintenance process has been created for the curriculum to be updated as legislative, regulatory and case law evolves over time so it will never be outdated or irrelevant.
"As we developed our flagship WRP, we consistently heard concerns that onboarding new talent with state material was a significant challenge, in addition to keeping everyone apprised of the latest changes," said Donald Abrams, Executive VP of Business Development. "Our intention was to build on top of the general best practice foundation of the WRP the unique intricacies of each state for a well-rounded education. However, we are also finding great interest in having direct access to the State-Specific Training Program to fill in the gaps for multi-state organizations."
There are currently 32 jurisdictions in development with the intention to release all of them by the end of 2023 and the remainder of states by mid-2024. Each state's material was created and will be maintained by a single exclusive content provider with broad experience and expertise in that work comp jurisdiction. Five states are included in the launch and are available immediately:
These State Training Programs can be purchased individually by anyone with a need to understand specific jurisdictional requirements. There will eventually be an "All State" option for those with broader interests once the majority of state programs are available.
For further information about this unique training program and to stay updated as new states are published, please visit https://workcompcollege.com/state-specific-training-module-program/ or email sales@WorkCompCollege.com.
###
About WorkCompCollege.com
WorkCompCollege.com is a community-driven effort to improve the workers' compensation industry through comprehensive education infused with a whole-person recovery management mindset. The Workers' Recovery Professional (WRP) certification is comprised of meaningful curriculum in nine schools: Claims, General Studies, Humanities, Legal, Medical Management, Regulatory/Legislative, Return to Work, Risk Management and Stakeholders. A diverse, (in)credible team of School Deans and Faculty deliver the courses in an asynchronous virtual campus environment. A service of Workers' Compensation Educational Services, LLC and the brainchild of Robert H. Wilson, Donald A. Abrams and Mark Pew with advice and support from a distinguished Board of Trustees, this educational platform is revolutionizing how all stakeholders within the system become more proficient, professional and passionate about their role in an injured employee's journey to return-to-work. To learn more please go to www.WorkCompCollege.com or e-Mail sales@WorkCompCollege.com.